We love sensory jars and they are so easy to DIY! Sometimes, I whip one up during lunch for her to explore during quiet time in the afternoon. This week, we made some Valentine's Day sensory jars to add to our Valentine's Day themed bookshelf and they are PRETTY!
When possible, I let Lucy choose and add the materials to the jars herself. It's so much fun for her and it's great fine motor practice! I offer a funnel and a spoon but she usually ends up using her hands to place the objects in the bottles.
A note before you read on: I use water beads for one of the "recipes" in this post. I never let Lu handle water beads before they are fully soaked (They soak up water and grow to something like like 6000x their original size so you don't want a child eating any by accident or on purpose). For younger children, I might not use them at all because they aren't taste safe even when they are filled. An alternative to water beads for sensory play is tapioca pearls (we use these a lot and Lucy loves them!), but, I wouldn't use them in a sensory jar!
We used a large voss bottle to make the sensory jar that screamed VALENTINE'S DAY! First, we filled it with mineral oil. Then, we added pink, silver, and magenta glitter. Next, we added pink and red plastic hearts and some pink and red heart shaped gems. Finally, we closed up the bottle and watched the magic!
Tip: We reuse the bottles for new sensory jars but if you have a child that might open it, just add some super glue before you screw the top back on!
I used a small voss bottle for a water bead jar. It is filled almost to the top with water beads and glitter. It doesn't flow like the large heart jar but it's interesting in a totally different way.
For the last bottle I filled it 3/4 mineral oil, 1/4 water and added multi colored sequins. The sequins turn the water sligthly pink which is super cute!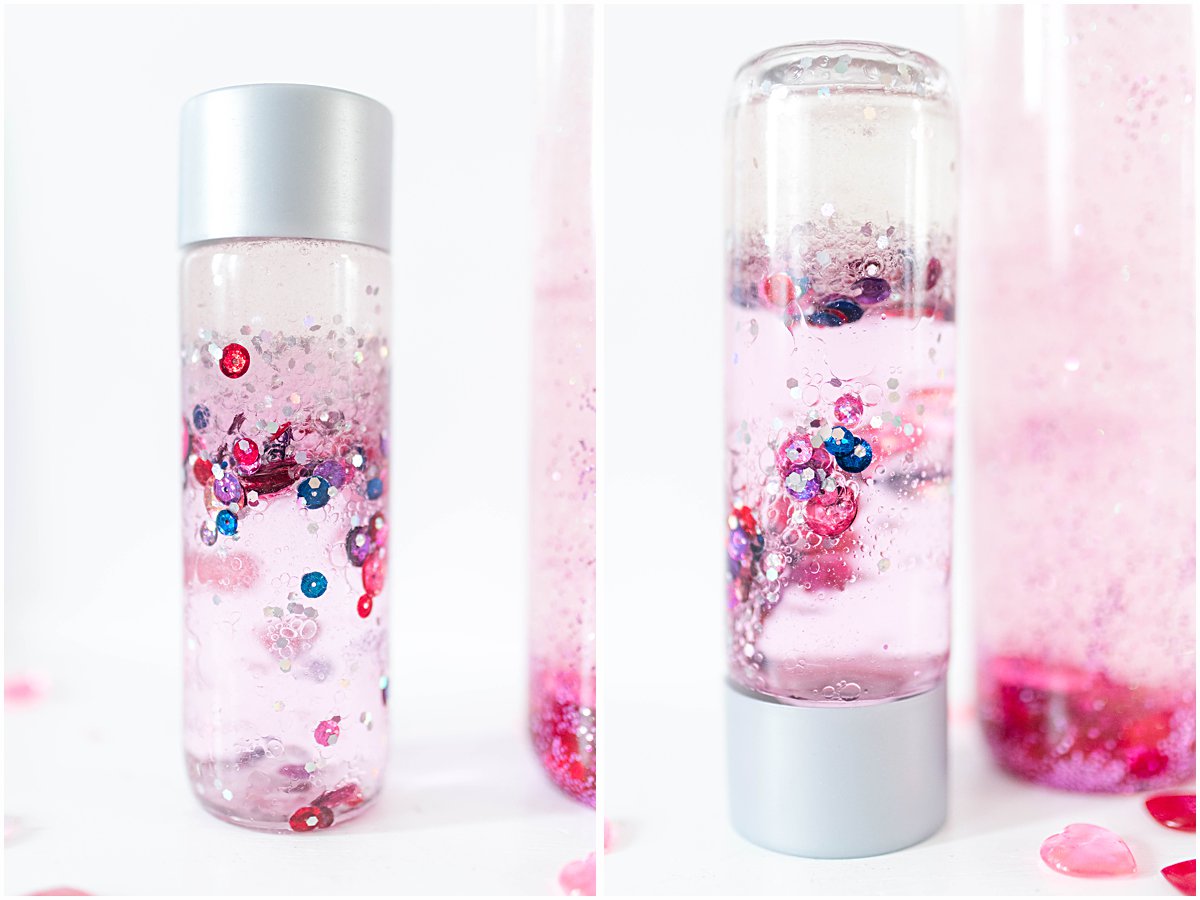 Have any other ideas for pink, red and sparkly sensory jars? Let me know in the comments!
Want to shop this post? The links below are amazon affiliate links, meaning, if you clickity over to amazon and purchase something, I receive a small commission at no cost to you. Any compensation from the link goes right into Lucy's warrior fund to help us, help her, battle retinoblastoma. You can follow along on her journey using her hashtag, #lucythewarrior on facebook and instagram. xo
Voss water bottle jars. You can buy them empty but it's actually LESS expensive to buy them filled with water and just drink them!
Mineral Oil buy the bulk jar if you think you are going to making lots of sensory jars, if you just want to make one you can just pop over to your local pharmacy and buy a big bottle of baby oil.
Pink Flamingo extra fine glitter
magenta glitter from the target dollar spot (similar to this amazon find)
plastic hearts from the dollar store (similar to these found on amazon)